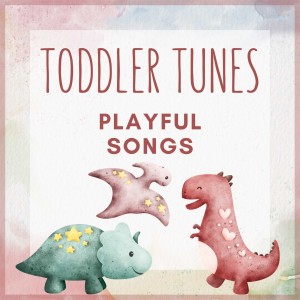 Thursday Nov 03, 2022
Playful Songs | Baby Music | Activities for Toddlers | Kids Education | Fun for Children |
✨ Follow Toddler Tunes on Spotify ✨

Hello little listeners, are you ready to sing some very playful songs with me today?
🎈 If you have a special message, request or question, or if you have an upcoming birthday that you would like me to include in next weeks podcast, I would love to hear from you!
⭐️ Send me a message ⭐️
OR
💌 Email me 💌


🎶 TODAYS SONGS
- I can roar like a dinosaur (pre-save this song here!)

✨ PARENTS, CAREGIVERS AND TEACHERS
Thank you for listening to Toddler Tunes. This fun and interactive music podcast helps parents, caregivers and teachers bond with their little people through music. Here at Toddler Tunes, we sing songs about the alphabet, counting, animals, colours, nursery rhymes and so much more. Each song gives you the opportunity to connect with your child as you sing along to well loved nursery rhymes and brand new songs.


💛 ABOUT THE TAMBOURINE SOCIAL
I am so excited to bring you beautiful baby music classes that you can enjoy with your child at home. All of my children's songs have lyrics and actions for you to pick up easily and are perfect to listen to with preschoolers, toddlers and babies. They're also a wonderful resource for children learning to speak English. If you'd like to access my online baby music classes, you can find them here: https://thetambourinesocial.vhx.tv/browse

☀️ ABOUT GEORGIE
I grew up in New Zealand, in a fabulously loud home filled with love and laughter. I studied music and songwriting at university and after receiving my honours degree in music, I moved to Melbourne, Australia. Once my two children were were born, I found myself singing them tunes about the type of day we'd had, or the adventure we were about to go on. Naturally, The Tambourine Social was born. Every song, podcast and video have been made with so much love and care for our precious little people. I'm so proud to bring you our online music classes and I can't wait to bring more songs, laughter and movement into your home.

Today's Key Words:
#music #kidsmusic #storyteller #storytime #babymusic #schoolrun #kidsentertainment #bedtime #kids #kidspodcast #imagination #kidsstory #education #learning #screenfreefun #screenfree #musiceducation #kidsentertainment #kidsdowntime #podcastforkids #roadtrip #funforkids #imagination #learning #playtime
Comments
(0)
To leave or reply to comments, please download free Podbean or